Yellow-Mag II & YELLOW-MAG iii Pilot Ladder Magnets and Ship Hull Magnets
IMPA CODE 20 93 23
SOLAS (International Convention for Safety of Lives at Sea) Regulations require the following (in part) 'means shall be provided to secure the pilot ladder and the man-ropes to the ship's side'
Only trust Patented and original YELLOW-MAG II version. IMPA code : 20 93 23 'HOLDING MAGNET FOR PILOT LADDER'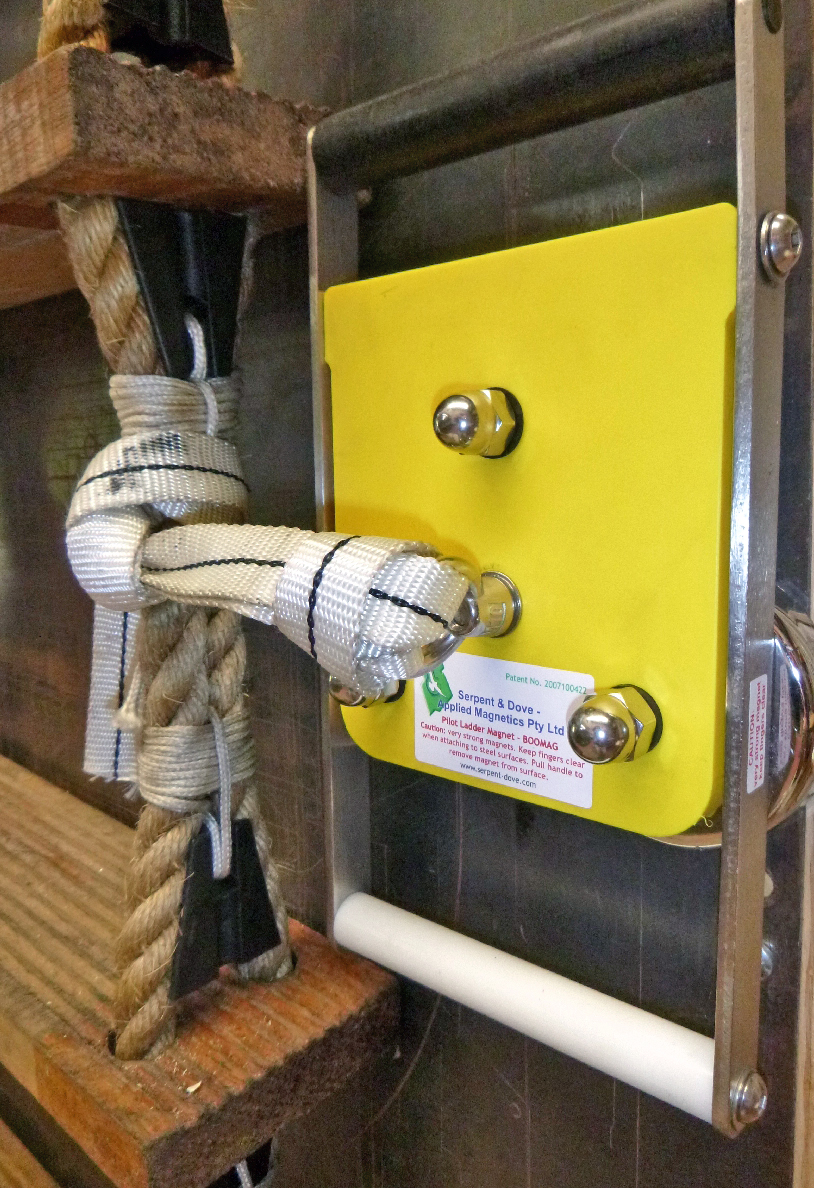 Download brochure
(PDF file = 1mb)
Yellow Mag II:
Developed in conjunction with professional marine pilots this Patented Pilot Ladder Magnet (Patent NL2011620) is the natural evolution of our original, heavier Pilot Ladder Magnet which had an all-steel magnet-mounting plate. Now, Yellow-Mag ll features a flexible, lightweight HDPE plate, tested to sub-zero temperatures.
Be sure to ask for Patented Serpent & Dove Yellow Mag II (Beware of heavier copycat products).
IMPA code 20 93 23
Yellow Mag II supersedes its heavier predecessor and inferior copies. We replaced the old, heavy steel base plate and updated the Magnet mountings to allow some flexing to better accommodate rough surfaces like paint, corrosion scale, weld seams and curvature of ship hulls, ensuring maximum grip in adverse conditions. Yellow-Mag II can also be used as a magnet to secure Accommodation Ladders, floating oil spill booms and maintenance vessels.
Improved, Patented (NL2011620) Yellow Mag II Pilot Ladder Magnet features include:
1.6 Kgs lighter in weight than old steel-based versions
N42 grade or better neodymium magnet material.
Flexible base and magnet mounts
Better grip on rough surfaces
Stainless steel ring for tie off
>450 kg tested gripping power per unit but removes easily with lever handle
Supplied as single units or in set of 4 in strong marine ply box.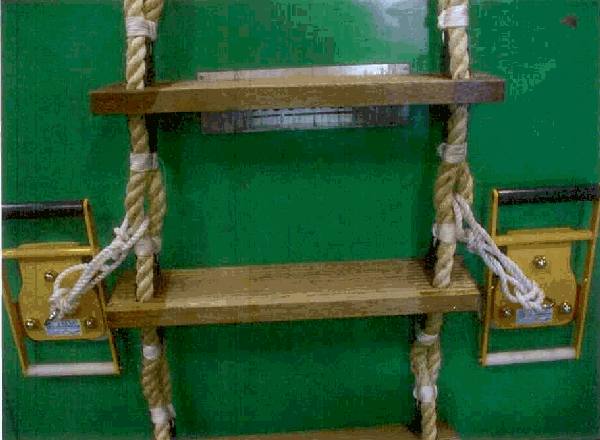 Distributors
Note - if you are not purchasing from one of the authorised distributors below, you are likely purchasing a copy of our product and Serpent & Dove cannot provide any guarantee of the quality of the product.
Australian enquiries can be addressed to: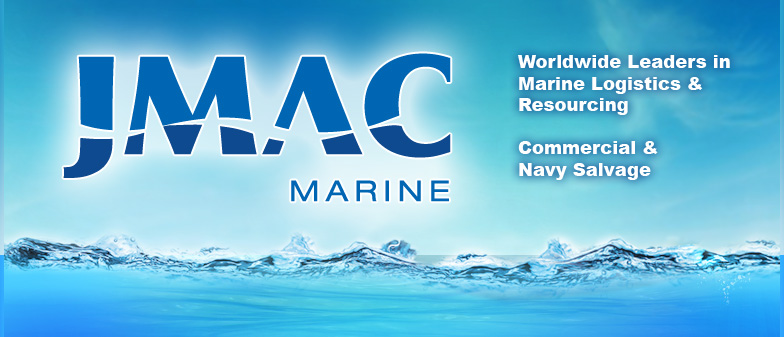 JMAC Marine
8 Erskine Road, Taren Point, SYDNEY - NSW 2229
PO Box 2918, Taren Point, SYDNEY - NSW 2229
Telephone +61 2 9524 3255 or +61 2 9524 3034
Fax +61 2 9524 3167
Email info@j-mac.com.au
Website: www.j-mac.com.au
In EUROPE, enquiries for Yellow Mag Pilot Ladder Magnets should be addressed to: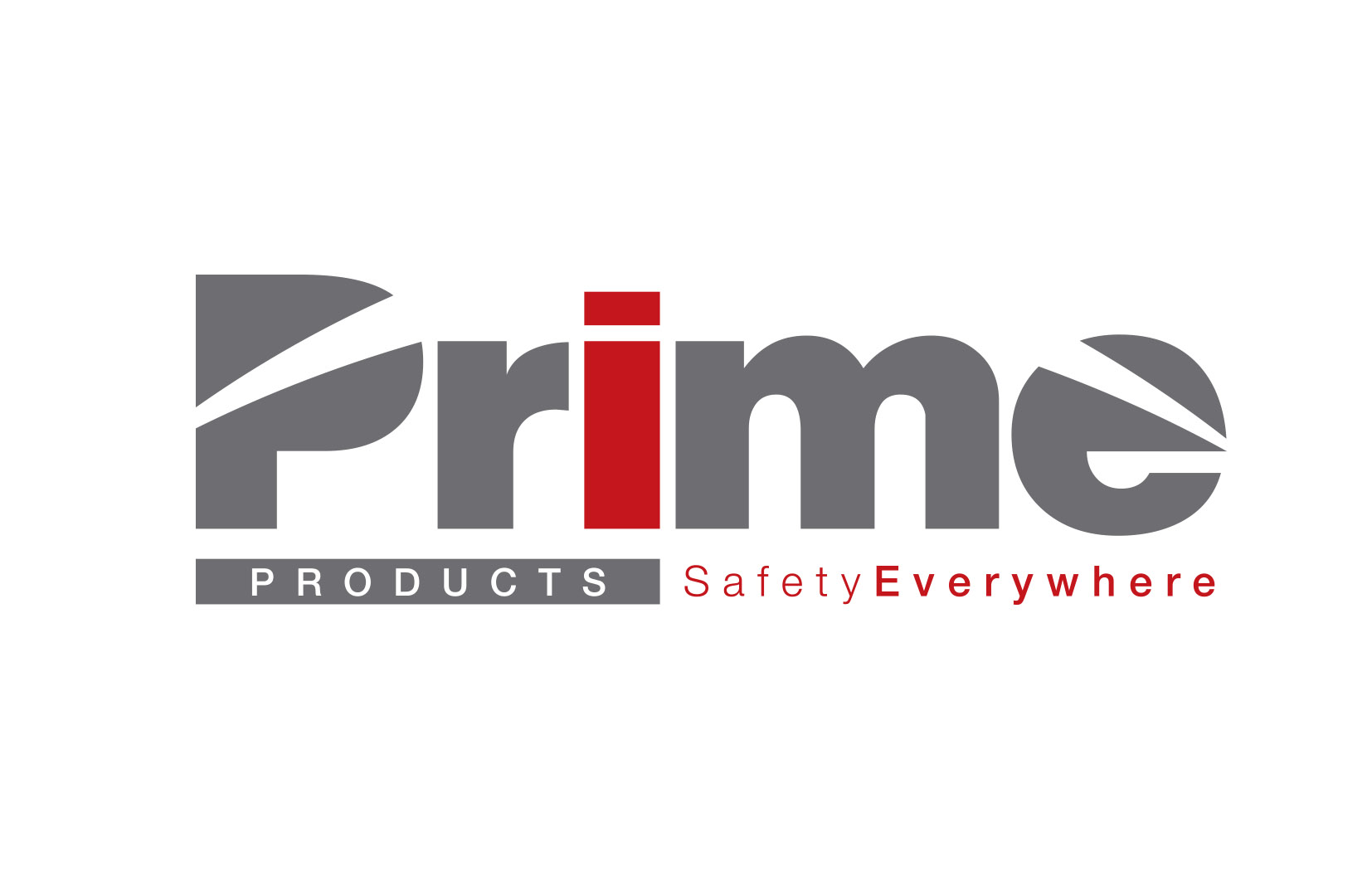 Prime Products Distribution Ltd
89A, D. Moutsopoulou Str. Piraeus 185 41 - Greece
Telephone +30 210 4819800
Fax +30 210 4203523
Email info@primeltd.gr
Website: www.primeltd.com
In SINGAPORE, contact
In NORTH AMERICA, contact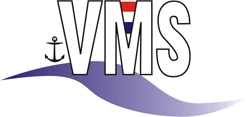 Vansteen Marine Supply
1351 Lathrop Street
Houston, Texas, 77020-8004
Phone: 1-713-674-3300
Fax: 1-713-674-3344
Toll Free USA: 1-888-300-7161
E-mail: sales@vansteen.com
Related News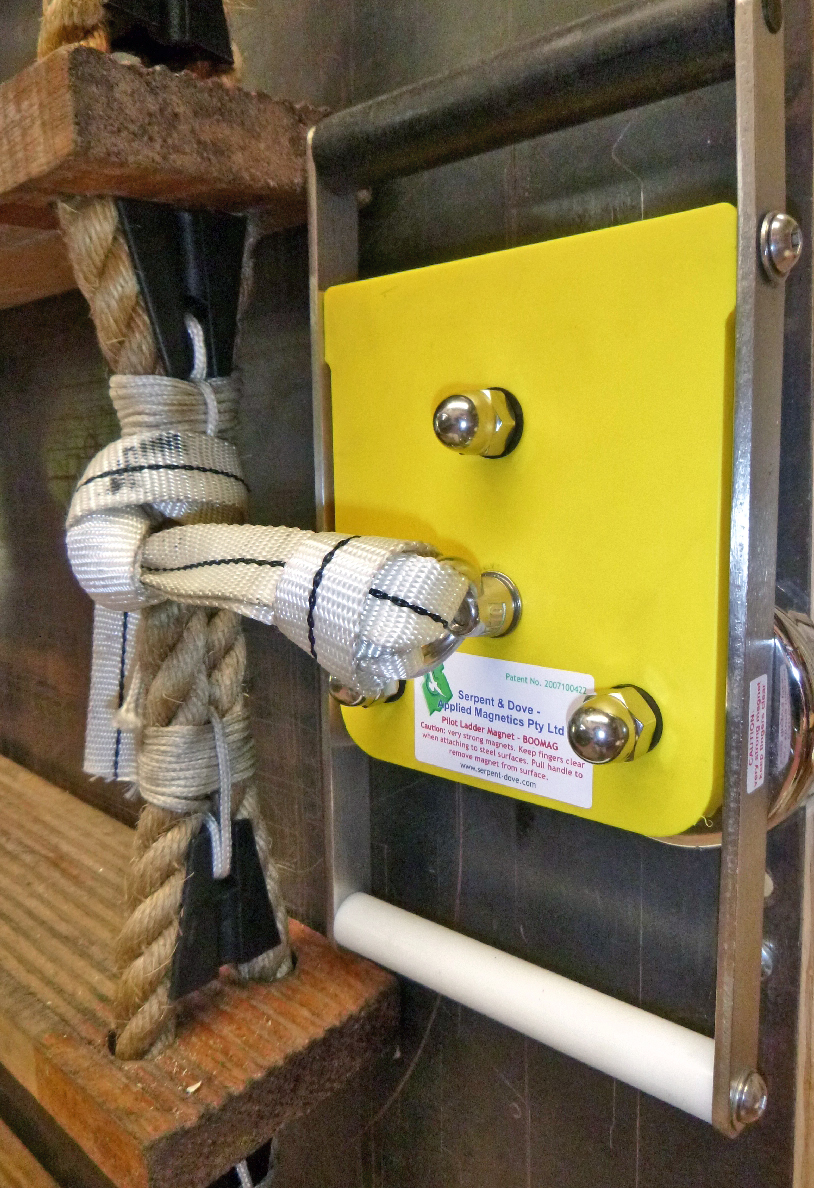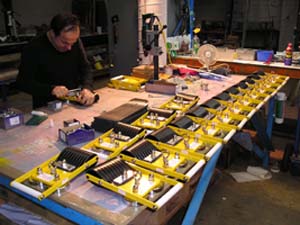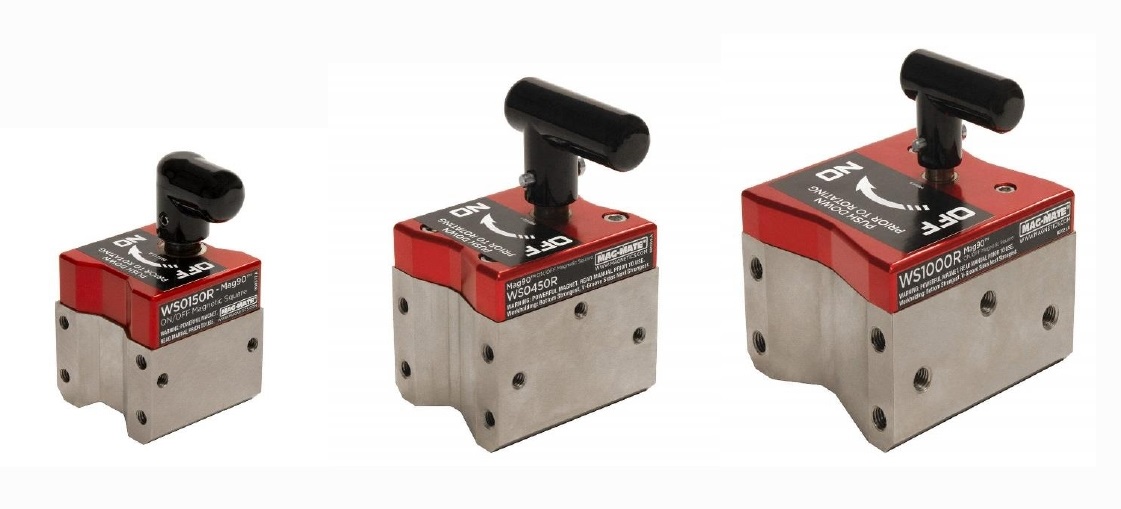 Mag-Mate Magnetic Squares and Clamps Australia
SERPENT DOVE Australia News: Mag-Mate Switchable on/off magnetic clamps need no electric power and enjoy many applications in welding and steel fabrication. Supply mag-Mate switchable permanent magnets alternative to magswitch from stock to Sydney, Melbou... Read More